Education Services
Private ONLINE or Onsite Education. You Decide.
Whether you're looking for online or onsite training, you've come to the right place. We offer a comprehensive portfolio of Cognos training and education services
Online Training
Delivers an expert instructor, course content, and hands-on labs right to your desktop using an online virtual classroom platform.
Onsite Training
Delivers an expert instructor to your location to conduct formal classroom training with a schedule convenient to you.
Onsite Mentoring
Delivers an expert instructor to your location to mentor up to 3 students with diverse topics and activities around various challenges.
With outstanding features of expert instructors, customizable high-quality course material, confidential training atmosphere, and flexible training schedules, DataClarity delivers some of the most intensive, extensive, and informative training in the industry.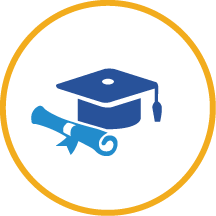 Courses
Choose any of the following links for detailed course information:
Request a DataClarity Course
Please use the form below and a DataClarity Education Specialist will contact you shortly. Thank you.
[[[["field6","contains","@gmail"],["field6","contains","@googlemail"],["field6","contains","@outlook"],["field6","contains","@yahoo"],["field6","contains","@aol"],["field6","contains","@aim"],["field6","contains","@yandex"],["field6","contains","@inbox"],["field6","contains","@protonmail"],["field6","contains","@zoho"],["field6","contains","@icloud"],["field6","contains","@mail"],["field6","contains","@gmx"],["field6","contains","@fastmail"],["field6","contains","@hush"],["field6","contains","@hotmail"]],[["hide_fields","field11"],["show_fields","field17"]],"or"]]